As a small team of super passionate printing people - who have been operating for the past 27 years - TBS Associates take pad printing very seriously.
With all our processes being completed in-house – from the design process in the hands of our artwork team, to the production itself – we pride ourselves in offering a truly bespoke pad printing service.
Given that our processes are done in-house, you can be sure that you'll receive the finished product in a far quicker time frame than would be expected from a company who outsources elements of the production process.
With six full time employees and a small team of part time staff, every new project is created lovingly by somebody who actually really cares about the outcome of your creation. We work on artwork, plate and colour matching here, giving us total control over the quality and time frame of your work.
Located in a hygiene-optimised, modern building with a floor space of over 3000 square feet, you can find us with ease, being close to both the M1 and M69. Being in the heart of the Midlands ensures that clients from all across the country can get to us with minimal faffing.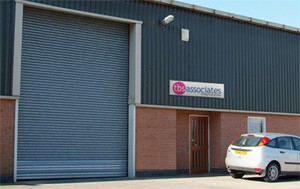 The method of pad, or tampo printing, involves printing onto most surfaces of substrates. This means that we can tackle rounded or awkwardly shaped components, with digitally controlled operations everything remains precise.
Whether you're from a retail, motoring or white goods industry, be sure to contact us today here at TBS Associates, where we can answer any of your questions and book you in for a consultation.